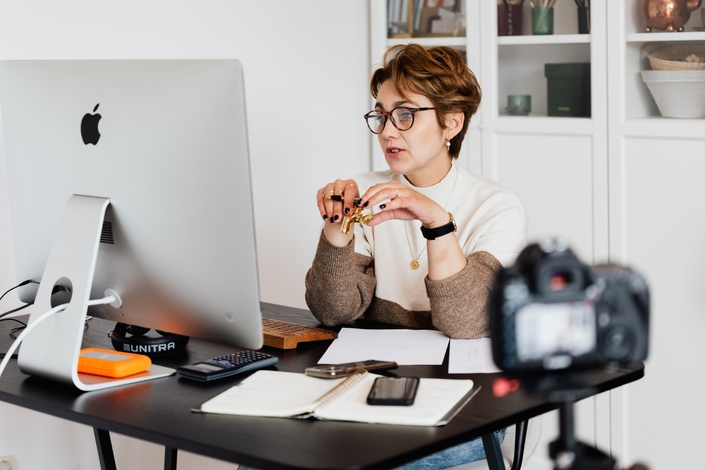 Let this veteran course creator show you an easier, faster way to get that idea out of your head and into a training program —and get enrollments in less than 8 weeks!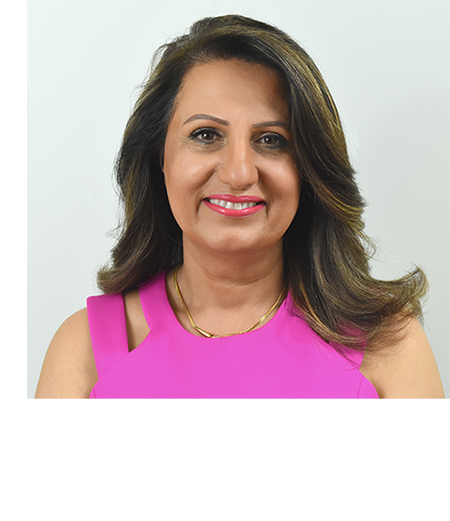 Hey — Eli Natoli here!
As an expert in your field, you're committed and confident that your experience and expertise can transform lives and make a tremendous impact in your niche. You also know that packaging and selling your skills is the way to help more people and increase your impact and revenue.
But when it comes to creating and selling online courses, you're falling into the same trap almost everyone else does:
Spending months struggling to figure out what the RIGHT course topic and course content should be.
Wasting many more months weeding through endless articles, free tutorials and paid trainings, just to figure out how to actually create and publish your course.
And then, the hardest part: spending months — or even years —scripting, recording, editing, and finally publishing your course.
There are some serious problems with this "online course creation" method.
After all that time and effort (and money), you still won't know if you're solving the RIGHT problem for your audience.
Even with the year or two you spent to just get there — and despite all that time at the beginning researching and validating your course topic idea — you won't know if it's right until you've reached hundreds of enrollments and received real-life feedback and testimonials.
You've got no one to market to.
You have no tribe, no audience already interested in your particular offer. So how are you supposed to get hundreds of people to enroll in your course?
Odds are you'll likely have to start over from square one.
Let's say you spend the next 12 months building your audience, so you can convince them to buy your course. What happens when you realize nobody's biting because it doesn't solve the right problem for them? All that time and effort is now completely wasted.
Don't spend countless hours pouring your heart and soul into something when you have no proof it's going to be profitable!
Instead, you should be pre-selling a high-level group coaching program — before you sell your more robust, evergreen digital course.
---
Why? I'll give you five good reasons:


1. Pre-selling your group coaching program saves you time, energy and money.
2. You'll be able to very quickly validate whether your idea is a GOOD one.
3. You'll be able to tell whether or not people will pay you for it.
4. You'll know whether or not it actually helps them solve their problems.
5. And guess what? You're getting PAID while you do all that research!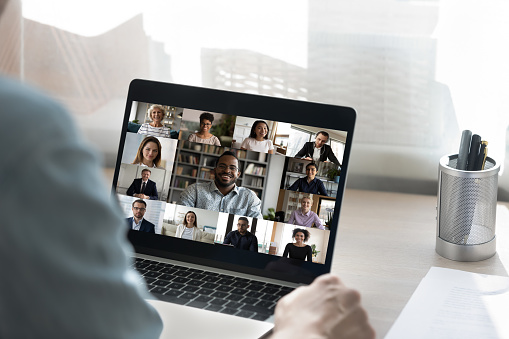 This saves you countless hours of pouring your heart, sweat and tears into something that's only going to let you down. Instead of endlessly researching, refining and going to market and getting nothing in return, you'll be able to validate your idea and prove it's profitable — and in demand.
It's also a lot easier to get enrollment into your Pilot group program since your clients know they'll have direct access to you. That they'll get better results because you're right there alongside them, helping them get to their desired outcome faster.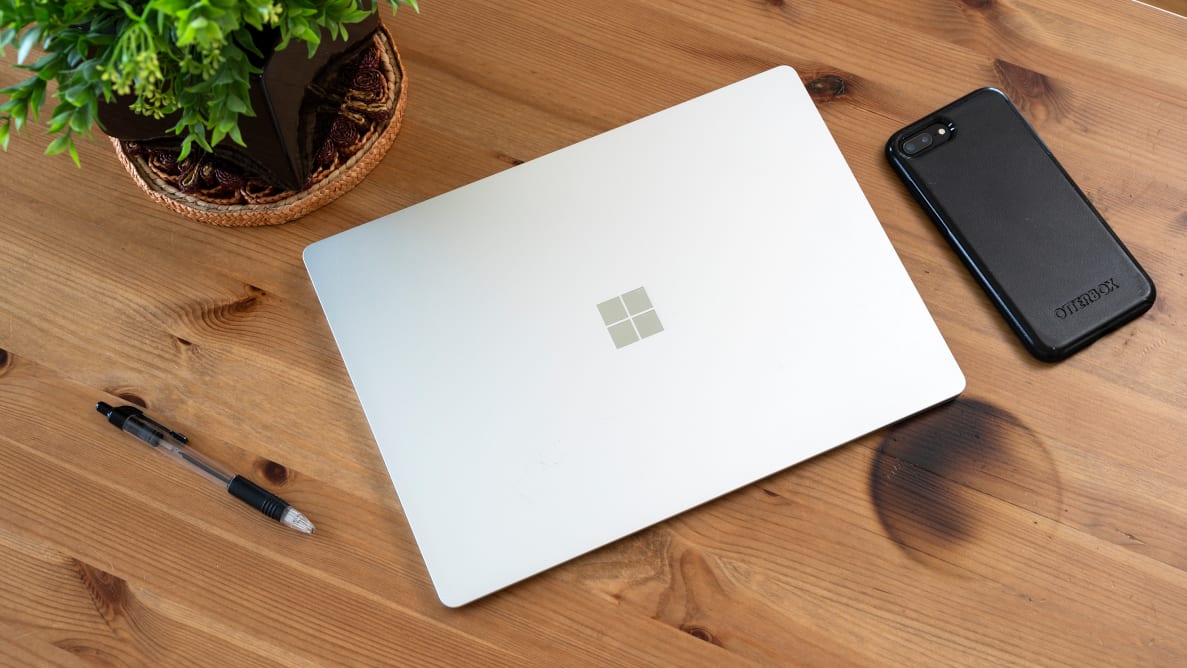 Now you have a community who's as invested in the program as you are; they want to see it through as much as you do. In a way, they're helping you co-create your program, evolving it into a more well-rounded, transformational course.
What's more, you'll cross the finish line of that coaching program with a new community of raving fans eager to write testimonials, cross-promote and get the word out for your next launch!
And the best part? You've made money while testing and validating your idea.
Introducing my IDEA TO LAUNCH Bootcamp!
If you've been thinking about creating an online course, something that will generate passive income for years to come…this is the perfect program. Here's what you'll learn:
Use my exact process to take that idea in your head for a program, validate it, and then come up with a single pain point your audience is experiencing.
Then I'll show you how to identify the RIGHT solution that will give your audience the outcome they're hoping for.
You'll turn that solution into a step-by-step process (aka Signature Offer, which is your unique solution), using my propriety formula.
You'll use that unique process as MAGNETIC CONTENT to build your audience and sell out your training program.
Instead of taking months to create and record it, you'll deliver your training LIVE.
I'll show you how to make sure you get real-time feedback as you're delivering your course, along with testimonials.
Equipped with all that feedback and all those testimonials, you'll now have a robust program that generates income on autopilot!
Take the pressure of coming up with "the perfect course" off of YOU — put the spotlight back on your clients and create with them!
If you've been thinking about turning your passion, skills or expertise into an online course…
If you've been stuck for months struggling to create an online course…
If you're overwhelmed trying to figure out what to do first or next…
Don't waste another second creating an online course until you attend this bootcamp.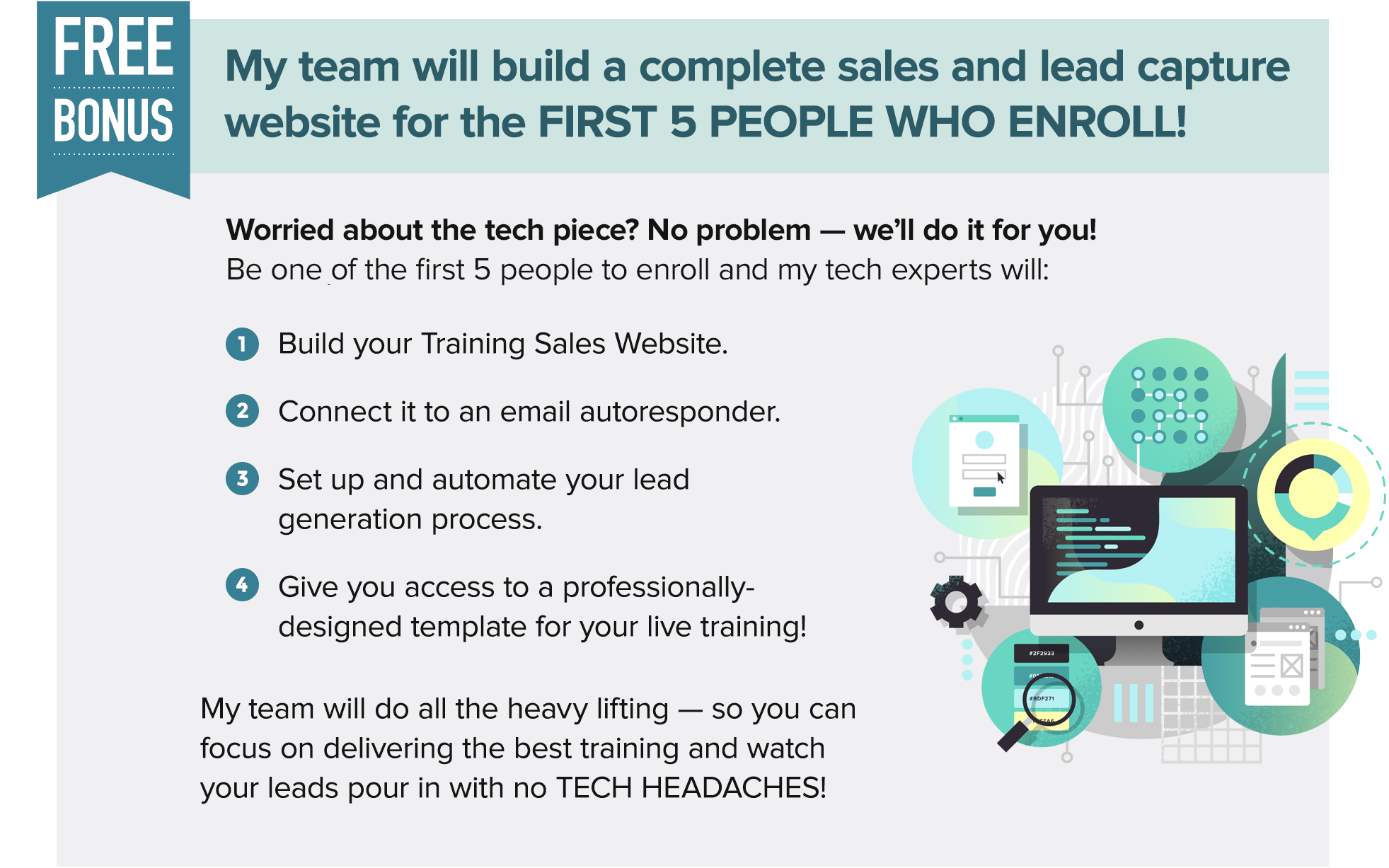 IDEA to LAUNCH is my proven process for launching a signature online course by giving you all the training, insights, and tools you need over an 8-week period. And it's going to get you the results you want for two very good reasons: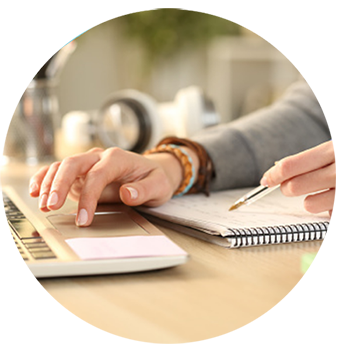 First, spreading out the material over 8 weeks lets you fit everything in — without burning yourself out. I know you're a busy professional and you don't have an endless supply of hours to devote to a training program — even one that can help you enjoy massive results.
Second, you're going to be implementing what you learn along the way. This isn't for "information junkies" who just like to take courses for the heck of it. You'll be following clear, specific action steps toward creating a unique, profitable training program — from our very first week together.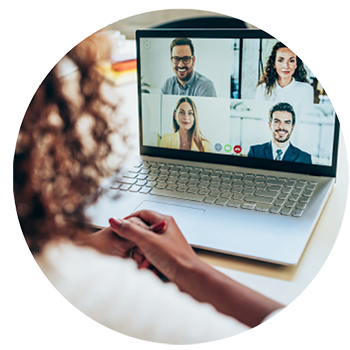 By the end of the program, you'll have launched your very own signature pilot program, along with the right magnetic content and the know-how to build an engaged audience. Both of which you can rely on to grow your business for years to come!
All of the action steps are clearly explained and come with step-by-step instructions. All you have to do is follow the instructions, make a few choices and fill in the blanks. And before you know it, you'll have a complete signature training program that serves as your lead and revenue generation system!
Ready to turn something you're really good at into a 6-figure online training program?

Right now, you have a decision to make.
You can keep struggling to figure out how to create and launch an online course, wasting countless hours of your precious time and buckets of money in the process…
...or you can jump into my IDEA TO LAUNCH Bootcamp and start creating your training program and building your tribe TODAY!
If you want to build the business you've always dreamed of — one that's uniquely yours while making an impact in people's lives with your knowledge or expertise.
Here's just some of what you get:
Get your course out of your head and into the hands of your ideal clients!

Build a unique training program based on your expertise, life experiences, passions, skillsets and ideas.

Create a course your ideal clients want and will buy — BEFORE you create any content!

Learn how to increase the completion rate of your students with the right content, covering the topics they care about most.

Determine the necessary modules, content, and training videos you need to create.

Create a profitable launch campaign that builds momentum and anticipation.

Get your hands on my sales letter templates and email sequence scripts that help you automate your business and own the market!

Learn how to create and design beautiful worksheets, along with your student course portal.

Package it all up into a unique to you program your prospects can't wait to buy.

Discover the behind-the-scenes tools and software you need in order to be successful with your course.
"Because of Eli, in the last three weeks I've generated over $11,000 in net profit…"


Because of Eli, in the last three weeks I've generated over $11,000 in net profit…just this past week I re-launched a new version of my subscription service, which was absolutely crumbling; Eli turned that around, increased my prices to $200 per student, got a bunch of enrollments and made $5,000 in just a few days…it was unbelievable to watch!
Frank Bunn
Financial Advisor
"I love Eli's heart-based, simple and genuine approach!"


Eli is not only going to hold your hand throughout the process, but she'll see the role your course plays in a wider strategy to help you get clients and money!
Urtzi Cristobal
Performance Skills Trainer
"Incredible, 10k in 4 weeks!"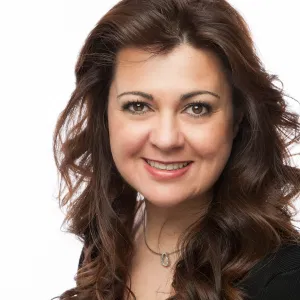 Eli is a true gem. She held my hand throughout the workshop. I had been wanting to leverage my services and find ways to scale and grow. This workshop was one of the easiest and fastest ways to get there. I couldn't have done it without Eli's help and guidance.
Kia Aryan
CEO, Zinegraphics
"Eli guided me through each stage of the process!"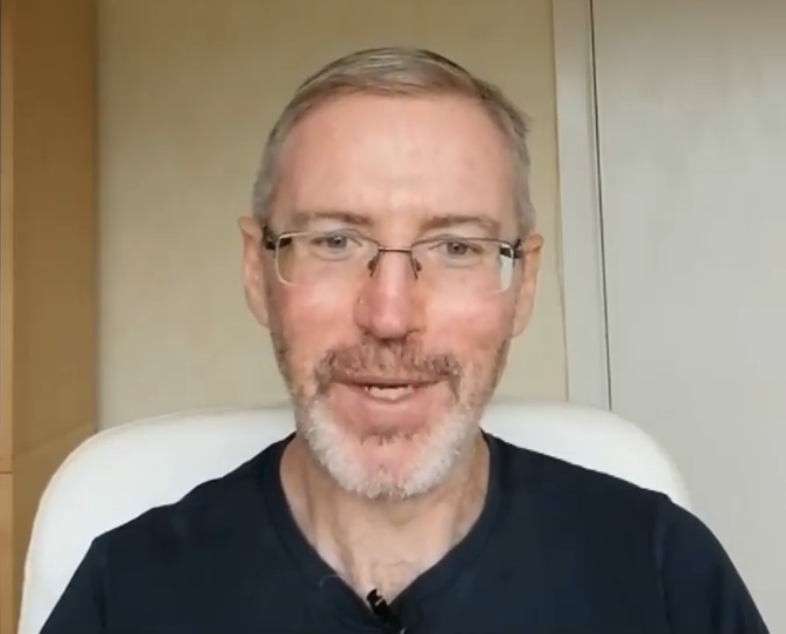 I had read many books and taken many trainings that talked about how to create, promote and sell your Digital products and services, but the difference with Eli is that it's 1-1, so I got real time feedback on my progress.
This really helped me to fine tune everything.
Before this workshop, I used to think that only creating a great online course was enough.

All I had to do was put out a freebie and I'd start getting customers.
But since taking this workshop with Eli I've realized that every element, from the lead magnet to the email sequence all play a vital role.
Having Eli by my side, and guiding me through every piece and part has made a huge difference.

Caemin O'connor
Founder, LteMind
If you've been feeling stuck, unsure of yourself, or confused about what to offer, IDEA TO LAUNCH is perfect for you!
Your Instructor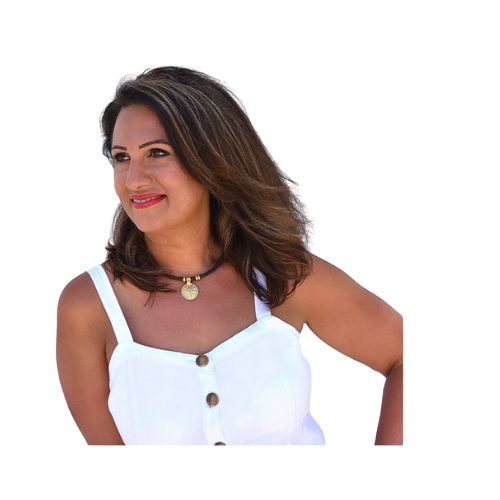 Eli Natoli is a service-focused marketing strategist, international speaker and bestselling author. For more than 20 years she's helped entrepreneurs and their businesses clear a path to innovation, growth and profit.
In addition to her coaching practice serving entrepreneurs across the globe, Eli has started and grown two successful online businesses and launched 8 online programs. Her unique approach to strategic, service-focused marketing is responsible for enrolling more than 120,000 students for those courses, and her products are returning six-figure revenues — consistently.
Eli now dedicates her time to teaching experienced and aspiring entrepreneurs how to do what she's done: start and grow their own businesses, attract clients, redefine and improve their marketing and generate consistent cash flow.
Her international workshops and talks deliver clarity and confidence to every person in attendance. She gives actionable advice for starting and growing a thriving business; she makes audiences feel in control and empowered. And she offers things they can act on and start seeing results as soon as they're back at their desks.
From free content posted at elinatoli.com, to paid coaching and training programs, everything Eli preaches is something that she has practiced — and seen meaningful, measurable results from in her own businesses.